Ring RAW gold white (Medium stone)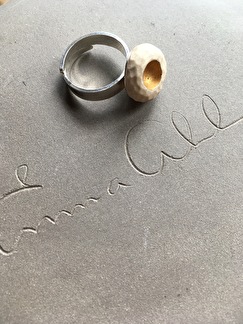 Pris:
790 kr
Inkl. 25% Moms
Art.nr:
P1599274
Antal:
Slutsåld
Handgjord ring i naturvit råbränd stengods med fördjupning i äkta guld. Varsamt hamrad yta och justerbar ring i äkta silver. Levereras i eco-certifierad smyckesask. Stenen är ca 15mm i diameter.

Design & tillverkning: Emma Ahlström, Prima Gård

Handmade ring in stoneware, gold and 925 silver.
Adjustable size.
Designed and handmade by Emma Ahlström, Prima form.