Ring Raw gold soft pink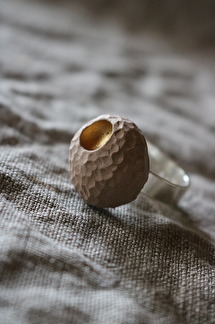 Pris:
950 kr
Inkl. 25% Moms
Art.nr:
P1339567
Typ:
Ring Raw gold
Antal:
Finns i lager
Handgjord ring i mjukt rosa, råbränd keramik med fördjupning i äkta guld. Varsamt hamrad yta och justerbar ring i äkta silver.

Design & tillverkning: Emma Ahlström, Prima Gård

Handmade ring in soft pink stoneware, gold and 925 silver.
Designed and made by Emma Ahlström, Prima form.
All rings adjustable.